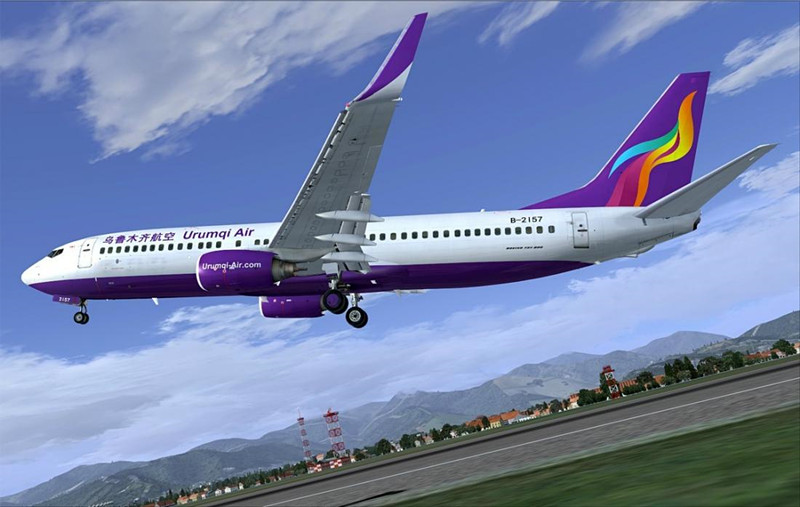 Urumqi Airlines' headquarter is located in Urumqi Diwopu International Airport. As the brand new subsidiary of HNA Groupit was approved by CAAC on Nov 18th 2013.Urumqi air dominated by "low-cost" airlines management conceptaim to establish a good and efficient modern air transport enterprise pursue "high efficiency low cost civilians".
Contract term:3 years

Working pattern:3 weeks on 1 weeks off 6 weeks on 3 weeks off 15 days on 15 days off

Fleet:9 B737

Highlights:Yearly income up to 292600 USD
Flexible commuting with annual leave
Low living cost in Urumqi
Urumqi Airlines
3 weeks on
1 week off
10 days off
per month
15 days on
15 days off
Type Rating
B737
Contract Period
3 years contract
Yearly Income
249000 USD for 1st year
253000 USD for 2nd year
256000 USD for 3rd year
232200 USD for 1st year
236200 USD for 2nd year
239200 USD for 3rd year
195000 USD for 1st year
199000 USD for 2nd year
202000 USD for 3rd year
Monthly Income
18000 USD
16600 USD
13500 USD
Annual Leave
15 Days
/
Sick Leave
7 days
Monthly Basic Salary
18000 USD
16600 USD
13500 USD
Bonus
Safety
15000 USD/Y
Annual Bonus
8000 USD/1st year
12000 USD/2nd year
15000 USD/3rd year
(after 3rd year 15000 USD/Y)
Loyalty Bonus
/
Allowance
Housing
/
Transport
/
Travel
10000 USD/Y

Education
/
Block Hours
75H/M
900H/Y
70H/M
840H/Y
60H/M
720H/Y
Overtime Pay
≥75H/M280 USD/H
≥70H/M280 USD/H
≥60H/M280 USD/H
Ticket Benefits
1.The pilots and their families can enjoy
flying routes by party a's route network
the HNA other air route network
(displayed in a system)quarter discount ticket with no reservation.
The ticket does not include airport construction fee and fuel surcharge.
2.The pilots can enjoy unlimited flying routes by party a's route network
the HNA other air route network domestic flight.
But must abide by the company and CAAC rules
Insurance
Employer Liability Insurance
base
Urumqi,Xinjiang
Training Pay
/
Training length
/

1.No older than 55 years old.
2.Flight Experience: 3000+ hours total time500+ hours PIC on type.
3.Class 1 Medical
4.ICAO level 4 or above.
5.No history of incidents or accidents
6.Hold a current and valid ATPL issued by a country with diplomatic relations(ICAO) with the Peoples Republic of China.
7.Recommendation letter
Please send us the documents as below for application. We will assist you to join the screening.
Application Form

Passport

ATPL with ICAO English level

Class 1 Medical Certificate

Last 3 pages of logbook(left and right sides)

Latest Proficiency Check Record or Recurrent training record

Consent letter with Union Jet

Certificate of Academic Degree(colorful scan copy)
Screening Schedule
May 21st-24th(Deadline:8th May)
21st Arrive in Beijing
22nd Medical Check
23rd Beijing-Urumqi
24th ATPL test
Screening Items
Basically the whole screening consists of 2 Phases:
Phase 1 (First Trip to China) – Medical check, Company interview, ATP written test, Company SIM Check

Phase 2 (Second Trip to China) – CAAC Licensing Checkride
Screening Preparation
Before coming to China, we suggest you to look through the information below on our website:
How to prepare and pass the screening in Chinese airlines?
Visa, Tickets, Hotel

Our Recruitment Team will assist your visa application, tickets and hotel reservation when you pass qualification check. Tickets and Hotel expenses are covered by airlines. Normally you need to buy the ticket first and get refund from airlines after screening.

Simulator Assessment

We'll send you the SIM checklist and relevant profiles when you pass qualification check.

Medical check

The medical problems that most fail pilots in China are as below. Before you come to China, please keep a light diet and better to have some simple check for your organ. Medical tips will be sent to you together with SIM profiles.

ATP Written Test

This test is not difficult as long as you work hard on it. The passing line is 70 of 100, requires constant practice and considerable memorization. Test-oriented and practical ATP self-study materials can be offered upon your approval during qualification check.
An agent from Union Jet will guide you step by step during your screening duration in China.